Back To Menu
Hawaiian Ribeye
certified angus ribeye + soy sauce + brown sugar + pineapple juice + orange juice
Temperature (Select 1):
Rare
Medium Rare
Medium
Medium Well
Well Done
Sides (Select 2):
French Fries
Green Beans
Wasabi Mashed Potatoes
Mashed Sweet Potatoes
Kale Salad
Sliced Tomatoes
cucumber salad
cream corn
+$4
Have you tried this item? Pop it!
Help other diners know what to expect by sharing your experience.
31 people have popped this item
Photo Gallery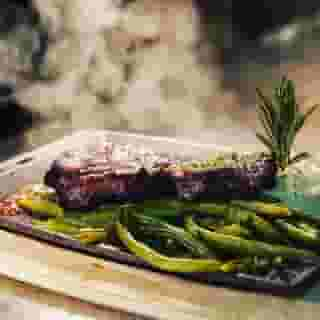 Back To Menu
Hawaiian Ribeye
certified angus ribeye + soy sauce + brown sugar + pineapple juice + orange juice
Temperature (Select 1):
Rare
Medium Rare
Medium
Medium Well
Well Done
Sides (Select 2):
French Fries
Green Beans
Wasabi Mashed Potatoes
Mashed Sweet Potatoes
Kale Salad
Sliced Tomatoes
cucumber salad
cream corn
+$4
  Back To Menu